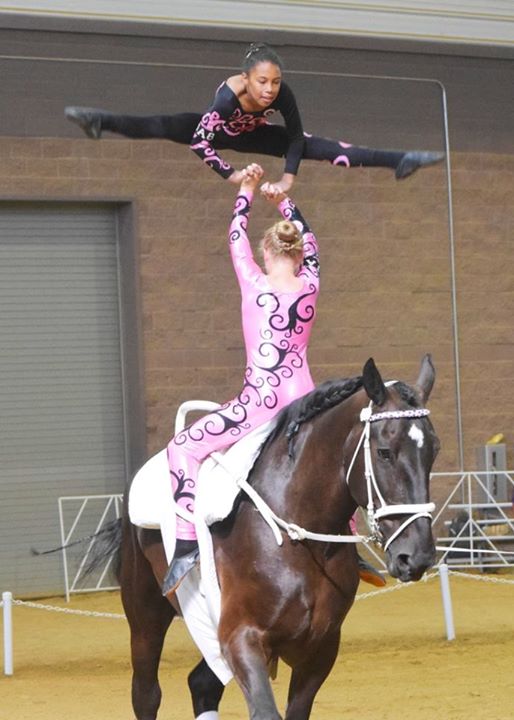 Complete Equestrian Vaulters team practice is for anyone ages 3 and up who would like to vault in a group practice.  We have scholarships available to those who would like to practice and compete with the team, but may not have the resources to do so.  You can choose to vault during our group lessons, or take private vaulting lessons.  We coach for therapeutic, recreational and competitive vaulting.
All of our practices include horse care, horse tacking, vaulter and horse warm ups, horse practice rounds, barrel practice, gymnastics and conditioning exercises, horse chores, and team reflection circle.  There will be a 1 coach and 1 horse for every 6 vaulters at practice.
Rates
Payments are due on the 1st of the month
Make up lessons for missed days are fine!
| | | | | | |
| --- | --- | --- | --- | --- | --- |
|  Monthly Rate | 1 Class Per Week | 2 Class Per Week | 3 Class Per Week | 4 Class Per Week | Drop In Cost/Lesson |
| | $92 | $176 | $252 | $320 | $28 |
| |  4 classes |  8 classes |  12 classes |  16 classes | |
Private Lesson- $55
Registration
Weather Policy
Please dress for the weather, using layers if necessary
We will NOT cancel practice for weather.  We will train inside in the event of extreme cold.  We will also travel to our offsite indoor practice facility on occasion when horse practice is necessary.  Please check our calendar for updates on locations if poor weather conditions are present.
Vaulting Attire
Please wear tight/exercise pants.  Tight fitting shirts.  Soft soled shoes.
Wear layers when the weather is cold.  Always be prepared with gloves, hat, coat, boots, and snow pants when necessary.
Pack water bottle, snack, and sunscreen.
2018 Fall/Winter and 2019 Spring Schedule
*Late arrival for school release is acceptable.
| | | | | |
| --- | --- | --- | --- | --- |
|  Monday | Tuesday | Thursday | Saturday | Saturday |
|  3:30-6:00 pm | 3:30-6:oo pm | 3:30-6:00 pm | 9:30-11:30am | 11:30-1:30 |
| Walk, Trot and Canter Vaulters | Walk, Trot and Canter Vaulters | Walk, Trot and Canter Vaulters | Canter Vaulters | Walk, Trot Vaulters |
2019 Summer Schedule
| | | | |
| --- | --- | --- | --- |
|  Tuesday | Wednesday | Thursday | Saturday |
|  8-10am |  8-10am |  8-10am |  8-10am |
| Walk, Trot and Canter Vaulters | Walk, Trot and Canter Vaulters | Walk, Trot and Canter Vaulters | Walk, Trot and Canter Vaulters |