Our horses are the most important members of our team.  They must be safe, trustworthy and skilled at their job.  We take great pride in the horses of Complete Equestrian Vaulters, and provide them with the best of care.  They are turned out to pasture daily, have weekly therapy appointments, and are cross trained 3 days per week.
Dozer
2004     Dutch Warmblood    17.2hh     Gelding
Dozer was imported from Prince Edward Island, Canada and made the long journey home to Colorado.  His personality and conformation could not be more well suited for vaulting.  He has quickly come along as an amazing mount for the international level vaulters, and we could not be more proud to call Dozer our own.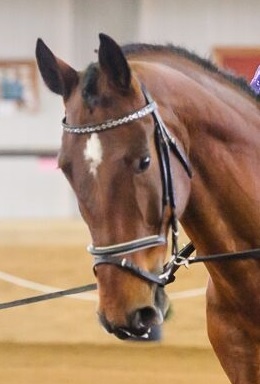 Fantasia
2003     American Warmblood    Bay     Mare
Fantasia is a huge teddy bear and a gentle giant who adores attention.  She is incredibly kind, gentle and affectionate.  She is a talented mare for our walk and canter vaulters, carrying individual, pas de duex and team.  She is trained to level 2 dressage, cross country, trail, and working cow horse.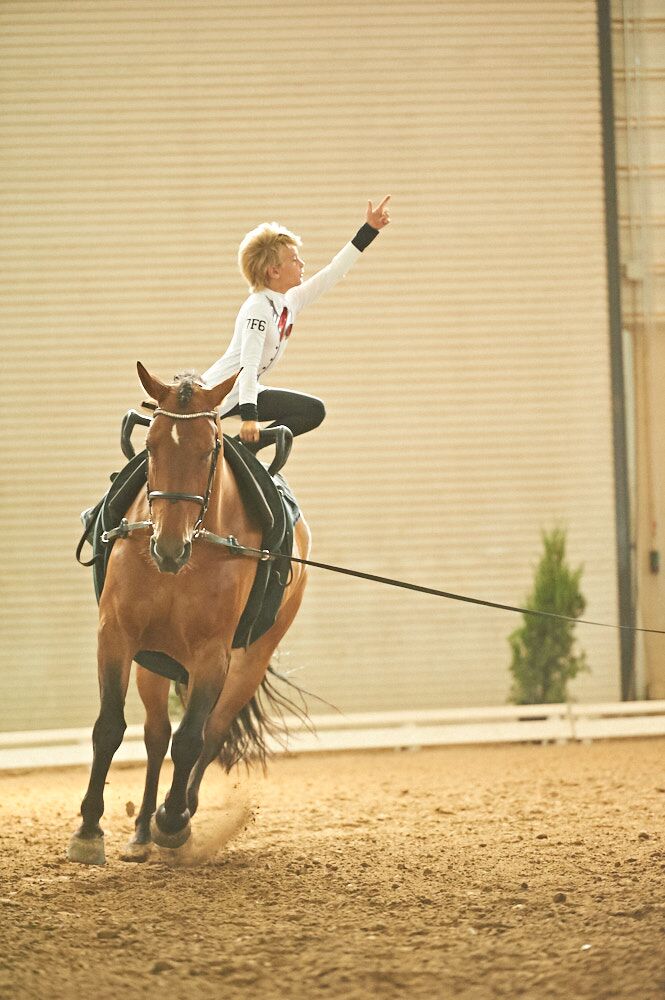 Chunky Monkey
2002     12.1hh     Haflinger     Chestnut     Gelding
Chunky is the best vaulting horse imaginable for our younger vaulters.  He is calm, cadenced and confident.  He came to CEV in 2014 and has found his forever home.  He is trained in trail, driving, and western and English flat work.
Gwyneth
2007    18.1hh     Clydesdale    Bay     Mare
Gwyneth came to join our club this September 2020.  She has come leaps and bounds in her training.  She loves people and attention.  We are so impressed with her intelligence and how much she enjoys her job!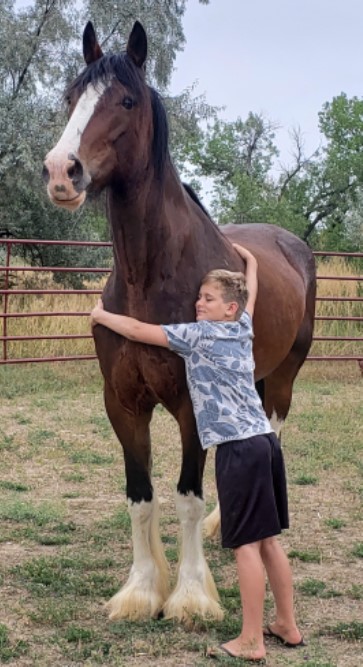 Black Jack
2016      18.0hh   Percheron   Thoroughbred   Black   Gelding
Black Jack came to us in October of 2020.  He is developing into a relaxed and talented vaulting horse.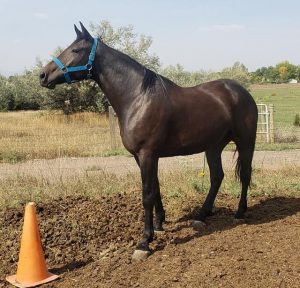 Honey
2016      17.0hh    Belgian    Sorrel    Mare
Honey came to us in February of 2022. She is really intelligent and very quick to train.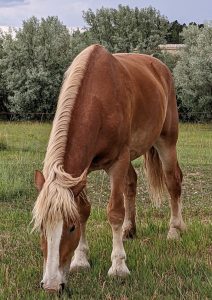 Brigan
2006   15.0hh  Missouri    Fox    Trotter    Palomino    Gelding
Brigan came to us in 2015.  He is often referred to as a Golden Retriever with hooves. He is very sweet, loves attention, and has a very smooth trot and canter gaits.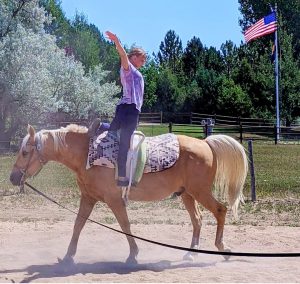 Ranger
2010     15.0hh   Haflinger     Chestnut     Gelding
Ranger came to us in June of 2022.  Before coming to Complete Equestrian Ranger was a logging horse, a competitive driving horse, and a halter show horse.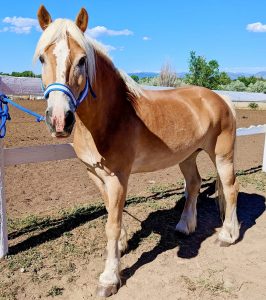 Forever in our Hearts
Miss Annie Git Yer Gun (Annie)
2000-2017     18.1hh     Percheron     Black       Mare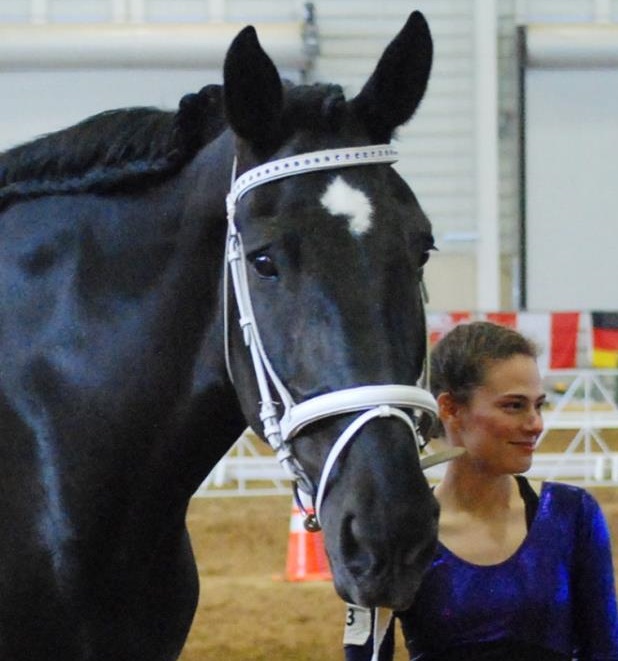 Rachmaninoff (Rocky)
1997-2020     Belgian     17.3hh     Sorrel       Gelding
Rocky- Saying Goodbye to a Legend
Not every team is lucky enough to have been loved by a legend, but we were.  Rachmaninoff, or Rocky, was born in 1997 and he left us on February 5th, 2020.  In his lifetime, he touched the lives of thousands.  It was really his personality and athletic ability that stood out.  He was incredibly intelligent and motivated.  He loved to work and perform, often removing entire stall doors or barn walls at home or away to get to where the action was.  He was the most trustworthy horse imaginable.  In every situation, whether it was massive crowds, noise, fire and anything that most horses would shirk at; Rocky was born confident in himself and would always keep us safe.  He was an athlete, performing grand prix level dressage exercises.  He was a therapy horse for multiple programs; carefully carrying students with physical and emotional challenges through his great life.  He was a circus and renaissance performer; jousting, carriage rides, rearing, bowing, lying down and roman riding.  As a vaulting horse, he carried individual, pas de duex and squads faithfully for nearly two decades and for 4 clubs.  The legacy he has left behind are countless stories about how he made you feel brave and safe.  He was a massive boy, standing at 18hh and 2,000lbs.  To be on him, felt like you could conquer the world.  His eye was kind, and his ears always alert.  He was a beautiful horse, inside and out.  He had the spirit of a warrior, and he never gave up.  He beat cancer 2 times.  We often joked that during a nuclear holocaust, the last two things standing will be cockroaches and Rocky.  He truly was the solid rock and foundation of our club.  He helped build us into what we are today because of his talent and kindness.  We are sad that he has left us, but we rejoice in all that he gave Complete Equestrian Vaulters.  Good boy Rocky, we love you more than you could ever know.