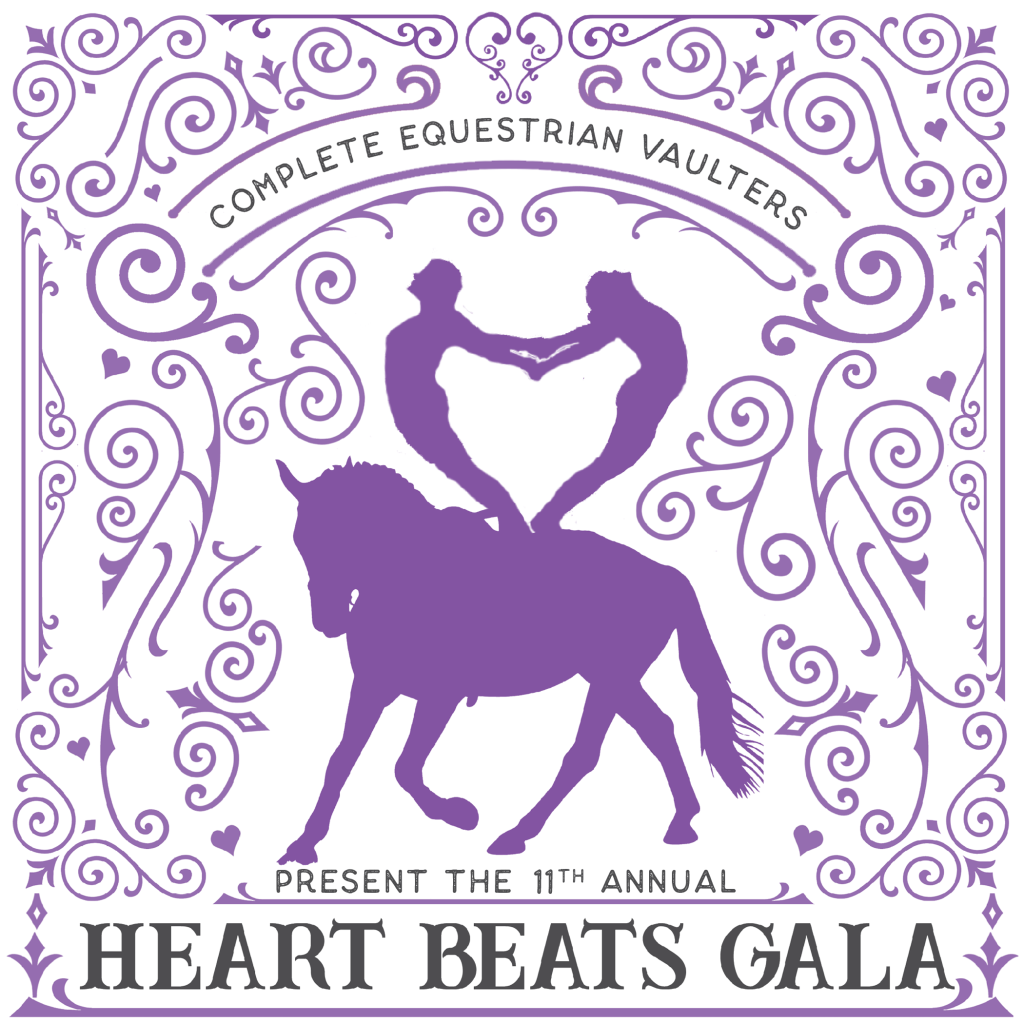 February 11, 2023 at 5pm
Come celebrate with us for our 11th annual Heart Beats Gala! We are very excited to offer you the opportunity to either view our LIVE STREAMED and LOVE THEMED vaulting event from the comfort of your own home or in person.
Our Heart Beats Gala is our main fundraiser of the year. We use the funds brought in for our scholarship program for under resourced and at risk youth and for the care and maintenance of our most important team members- our horses.
Tickets- Sales will open December 1st
VIP Tickets
In purchasing a VIP ticket, you will be honored as one of a select few to enjoy a catered meal, complimentary wine and beer, interactive games and a parting thank you gift; all while watching awe inspiring vaulting performances. On this evenings menu, Love Shack BBQ from Wellington, will be serving brisket, pulled pork, mac n cheese, BBQ beans, and coleslaw. Vegetarian and Gluten Free options available. Enjoy wine and beer while watching live vaulting performances from our talented vaulters. Step into stardom and take pictures with our horses, play games in our punch wall, and take a chance to win at prized silent auction items. Leave with your appreciation gift supplied by Bliss Custom Cookies and Poudre Pet and Feed.
Please reach out to us for booking full tables. We offer a 10% discount for entire table purchases!
Virtual Tickets
In purchasing a virtual ticket, you will have the opportunity to watch the Heart Beats Gala LIVE from the comfort of your own home. Upon purchase, you will receive an event link and online program for the event.
Online Auction
Our massive online auction will open on January 28th and will close on February 25th. New items will be added regularly while the donations are pouring in.
Donations
Do you have a donation for our auction? Let us know at https://www.cevaulters.org/donations/.
Sponsorships
Are you interested in being a corporate sponsor or private donor? Let us know at https://www.cevaulters.org/sponsors/.
Thank you to our 2022 Donors!!
3 Barrels Up
415 Restaurant
Aaron Watson Pkg
Addie Jades
Andrea Sturgeon
Ascent Studio
Autumn Morgenstern
Avogadro's Number
Bad daddys burger bar
Bas Bleu Theatre
Beau Jo's
Big 5 Sports
Blue agave
Buckhorn Camp
Cafe Athens
Canyon Concert Ballet
Cavali Horse Box
Cedar Industries Inc
Champion Seed
Charco Broiler
Chipper's Lanes
City of Fort Collins Golf Division
CK's Tax Services
Clothes Pony
Colorado Eagles
Colorado Symphony
Complete Equestrian
Copocos Honey Store
Costco
Curiosities
Cyclone Seat
David Johnson DDS
Dellenbach Motors
Denver Broncos
Denver Zoo
Dokie Native Treasure
Dougs Day Diner
Equine Medical Services
Eric Juhasz
Erin White
First Watch Restaurant
Fort Collins Circus Center
Fort Collins Nursery
Fossil Creek Nursery
Francos
Glossy Nails
GOLDCHAINBYTHEINCH
Goli Trump
Great Western Oil and Gas
Gulley's Greenhouse
Gymstars elite
Happy Horse
Hare Do
Heather Best
Hollywood Cowgirl Boutique
Human Bean
J9 Insurance/J9 Crop Insurance
JDW Cotillions
Jetset West
Joe Simonds
Kaizen Karate
Karen Manci
Kilwin's
Kim Geltz
Krazy Karls pizza
Little Cesars Pizza
Longhorn Steakhouse
Loveland Laser Tag
Lundsted
Lyric Cinema
Marsha Mowery
Meraki Yoga
Michael Royals
Morning Fresh Dairy
MouCo Cheese
Mountain Vet Supply
Mountain Vista Golf
My Forever Cowgirl
Mystique Lingerie
Natures Own
Nikki Porter
Noodles and Company
Nutrien
Old Town Churn
Oreganos
Otterbox
Outpost Sunsport
Paige Carey Organizing
Painting with a Twist
Perenial Gardener
Poudre Pet and Feed
Poudre Valley Co-op
Premier Martial Arts
Premier Skin Clinic
Purpose Brewery
Quality Well and Pump
Quilters Paradise
Raintree Athletic Club
Rally 5 restaurant
Renee Michl
Rib and Chop House WY
Rita's Ice Cream
Rockin P Ranch
Rockin R Alpaca Ranch
Rodizio Grill
Ruff Tuff Ranch Toys
Ryan's Sports Grill
Samsville Gallery
Scheels
Scott Family Health
Serious Texas BBQ
Silver Galllery
Simmer Restaurant
Small Farma Co., LLC
St. Pete's Fly Shop
Starbucks
Stardust Gifts
Steve Beitz Trucking
Studio Be Salon
Sturdy Horse
Sue Sutton
Sunward Jewelry
Susan Humphrey
T Campbell Enterprises
T-3 Weavers
T-Bar Inn
TCBY
Temple Construction
Texas Roadhouse
The Creative Hub
The Cupboard
The Dinner Detectives
The Pampered Pet
Todd Heirls
Todd Juhasz
Torchy's Tacos
Totally 80's Pizza
Trader Joes
Trendy Southwest Hippie
Trim Salon and Boutique/Erin Jerome
Turf Master Sod Farm
Urban Air
Vertical Fusion Dance
Wagz Pet Store
Wing Shack
YMCA Estes/Winterpark
Young Living
Zwei Brewing